Beat Breakdown: Ice Cube's Gangsta Rap Made Me Do It – Part 1: The Drum Beat
In a series of beat breakdowns and tutorials, I am breaking down the drum patterns of hip-hop songs and teaching you how to produce them with FL Studio 12.  For the melody check out Part 2 on License Lounge.
With this article, I'm teaching you how to recreate the drum pattern of Ice Cube's "Gangsta Rap Made Me Do It." It's an old song of Cube's from 2008, but today, it's still relevant, much like Cube's early material from the '90s and with N.W.A in the late '80s. The song's 21st century production only makes it sound more modern. Either way, I just love this song a lot!
As I recreate the drum pattern in this song, while at the same time teaching you how to do it, I will learn quite a lot, as I hope you will, too.
Open FL Studio 12, and if you cannot see any files on the left side of the screen, don't flip out and assume your computer is broken. Haha. It is because you haven't selected that button I circled below, which is called "all." It displays your sound files for kicks, snares, hi-hats, and so on. Make sure you click the icon in the red circle.
Something like the picture below should display once you've clicked "all." It's what I see. You should at least see a supply of sound files under subfolders like "packs" or "drums."
Since "Gangsta Rap Made Me Do It" is 87 beats per minute, change your tempo from the default 130 to 87. (Scroll down when you hover your mouse over the "130" display on the top of the screen—not the ".000" part—until it reads "87.")
There are so many snares, kicks, and hi-hats sounding like those we hear in the song. You can use whatever drum sounds you want, but I found two kicks I could use under the file location packs > legacy > drums > hip-hop. I will use "HIP_KICK" and "HIP_KICK_2" simultaneously to create a heavier kick than playing just one. I recommend you use them, too, if you want an accurate sound to the Ice Cube track.
Let's add those kicks to the Channel Rack.
Now time for a snare. The snares sounding closest to the snare heard in the song are "Linn Snare" and "Filtered Snare 1," under the packs > drums > snares location. Place those both in the Channel Rack.
The hi-hat I chose is "Grv CH 11," under packs > drums > hats.
Also, on every other snare in "Gangsta Rap Made Me Do It," you'll hear what sounds like a tamborine. My guess is it's used to give the effect of glass breaking, 'cause this is such a gangsta song. For that effect, insert the "GM Tamb" sound from packs > drums > percussion into the Channel Rack.
There is also a short crash cymbal starting on every eighth bar. The closest crash I found is "707 Crash." Find it in packs > drums > cymbals. Insert it in the Channel Rack with the others.
Now it's time to make a four-bar drum loop closest to how it sounds in the real song. Create what the Channel Rack looks like here.
(Top to bottom: HIP_Kick, HIP_Kick_2, Linn Snare, Filtered Snare 1, Grv CH 11, GM Tamb, 707 Crash.)
(When you play this pattern, it sounds pretty good if you used the files I used.)
Now add every sound on the Channel Rack to the mixer. (Remember how? Left-click each tiny box on the left side of the Channel Rack—the ones that read "HIP_Kick," "Linn Snare," and so on—left-click the tiny triangle on the upper-left corner of the box that appears, and select "Route to free mixer-track.") When you do this for all tracks, the mixing board should appear like this.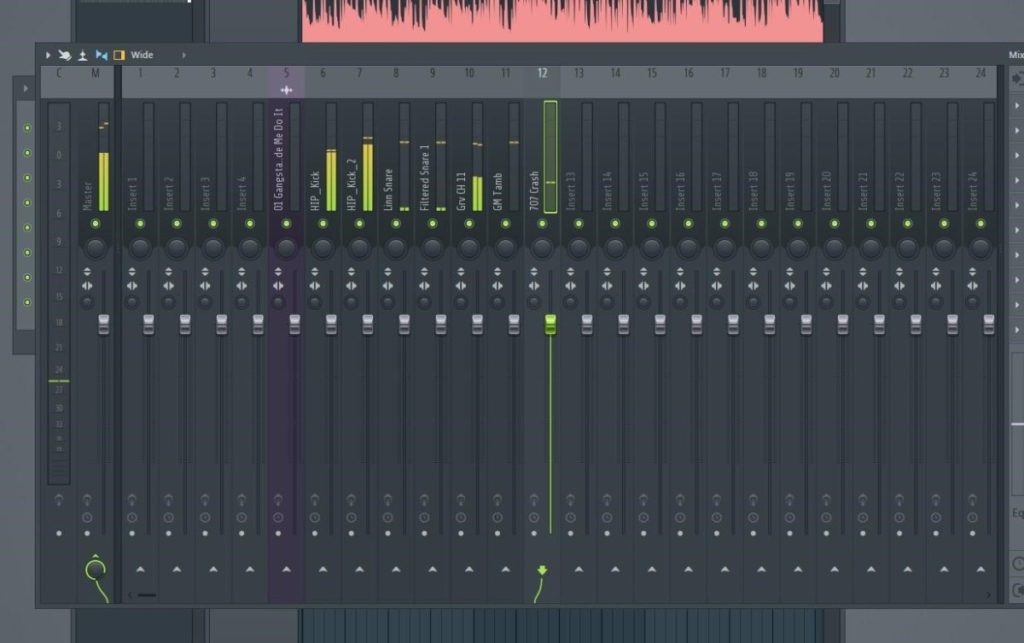 Now adjust the volume of the hi-hat (Grv CH 11), tamborine (GM Tamb), and crash cymbal (707 Crash) until they appears like this.
If this drumbeat doesn't sound identical to the real song, ain't nothin' to it. Gangsta rap made me do it.  For some of the best places to buy trap beats online don't forget to check out our hand picked selection of artists on License Lounge.
The Lounge
Get beats and sound kits from industry producers. We also provide sync licenses for TV, film, video games and more.
Get A Free Beat
Stay connected and we'll send you exclusive discounts, special offers, updates and more.
Recent Posts
Categories
Twitter Feed